The hybrid event is becoming the new norm, with a combination of virtual and face-to-face. Technological innovations are coming to the heart of events to capture and hold the attention of participants.
Have you ever heard of holograms?
Holograms are a technique whereby a two-dimensional image is projected onto a medium in three dimensions. In short, it is a 3D photograph!
This technique is very popular in the events sector, but not only! Bright and somewhat magical, this type of device attracts the public's eye. Their ability to attract makes them wonderful communication tools for brands.
Holograms are also used in museums because they can be used to reproduce very old archaeological pieces for example.
At large events, an image will be projected onto a support placed on the stage. The support can be made of glass, or more light and practical, of tulle, a very thin fabric that is almost invisible to the public. Images projected in this way can interact with physically present speakers, blurring the boundaries between the real and the virtual.
What type of hologram is best suited to what type of project?
The human-sized stage hologram: consists of projecting an image onto a window, a very thin fabric or a tulle cloth, placed on the stage. This mechanism creates an optical illusion, allowing a person to appear in two places at the same time for example. Ideal for conferences or other stage events.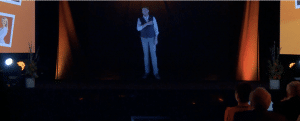 Hologram van Maxime Prévot – copyright NTTRB 2019.
The window hologram: consists of projecting an animation on the top of a sloping window, which reflects a screen positioned in a box. This device is ideal for presenting products in shops or exhibitions, for street events or amusement parks.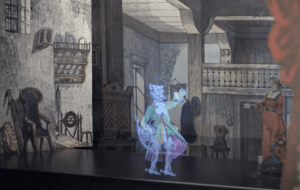 Showcase hologram made for MRAH – copyright NTTRB 2021.
Pyramid hologram: this type of device has multiple sides with multiple panes of glass, which allows it to be seen from all angles. This technique attracts the eye and is an excellent way to highlight a concept or product.
The hologram is a powerful communication medium, which allows to express oneself in an original way and to mark the spirits! Ideal for events, it creates interaction and captures attention.

Written by Alexandrine Delville, of the company NTTRB