The first channel of acquisition for a digital or e-commerce marketplace is, in almost 100% of cases, the web (SEO, SEA, social networks, etc.). The advantage of SEO (= natural referencing), in relation to other acquisition strategies, is that it is "free". However, it requires considerable set-up time as well as a certain amount of technical knowledge.
Here we will try to demystify natural referencing by breaking down and analysing its main pillars. In fact, referencing of our website OneHouseStand – a digital marketplace where owners of unusual spaces can hire them out for events, photoshoots and meetings – has largely improved since we decided, at the end of 2018, to exploit the 3 pillars of SEO. The optimisation of these has enabled our business's site to triple its traffic. In this article, we explain these 3 branches of natural referencing so that you too can increase the traffic to your website!
Natural referencing: an essential tool for the growth of your website
SEO, acronym forSearch Engine Optimization, or otherwise known as natural referencing, is divided into three distinct parts: Technical SEO, On-Page SEO and Off-Site SEO.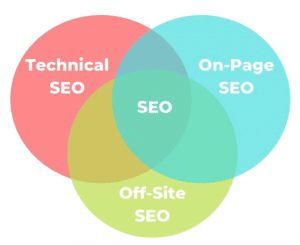 1.Technical SEO: the starting point for your natural referencing
Technical SEO represents a key branch in natural referencing. It consists in optimising your website as well as your servers so that the web crawlers for each search engine can go through and index it effectively. The speed of your website, the act of making it mobile-friendly or even installing an SSL certificate, are all elements which play a role in referencing.
For example, if loading up your website takes longer than 7 seconds, this creates what is called pogo-sticking. This phenomenon occurs when internet users go from result to result, not finding a response to their search. This is enemy number 1 for Google, and it will not reference your site well.
2.On-Page SEO: optimisation of your website content
On-Page SEO represents the part of natural referencing which corresponds to the optimisation of content as well as HTML source code present on your website. In particular, this includes as optimisation criteria: the use of tags such as the "title", "h1", "h2", etc., keyword density, internal links between the different pages of your website or even links from  external pages to your website.
3.Off-Site SEO: the part of natural referencing dependent on others
Off-Site SEO designates the part of SEO which does not pass directly through your site. This consists of obtaining backlinks (= return links) coming from other sites which have the effect of boosting natural referencing for your website. In addition to On-Page SEO as well as to linked content, Off-Site SEO is essentially based on external netlinking (= the multiplication of the number of backlinks).
The assimilation of the operating method of SEO as well as its application in our marketing strategy helped our business to have a better position on the digital market and contributed to the acquisition of new clientele. That is how, in the space of just a few months, we managed to increase organic traffic on our website by  350 %.
A deeper approach to each category of natural referencing will soon be available in an article dedicated to this subject. Don't hesitate to take a look!
English blogs (which also all have YouTube channels):
Ahrefs: https://ahrefs.com/blog
Moz: https://moz.com/blog
Search Engine Journal: https://www.searchenginejournal.com/category/seo/
Backlinko: https://backlinko.com/blog
Blogs in French:
Abondance (which also has a very good YouTube channel): https://www.abondance.com/
Journal du net: https://www.journaldunet.com/solutions/seo-referencement/
Ref-Nat WH: http://www.referencement-naturel-white-hat.fr/blog-seo/
Free SEO tools:
Very good list provided by ahrefs: https://ahrefs.com/blog/free-seo-tools/
Paid SEO tools:
Ahrefs: https://ahrefs.com/
Semrush: https://www.semrush.com/
Moz Pro: https://moz.com/
Majestic SEO: https://majestic.com/
Maurizio CHICCO
COO and co-founder of OneHouseStand, the web platform allowing you to hire unusual spaces for events.